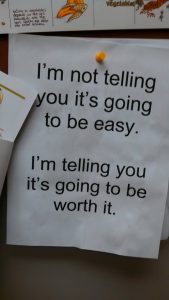 If you're a home school mom like me, and you're reading this, I hope this blog post encourages you.  I am a home school mom to three lovely boys.  My husband and I decided as a married couple years before we had children to home school them, one reason was because my husband was home schooled his entire school career.  We also wanted to direct the path our children's education; something we knew was more difficult to do if we chose public school.  We decided and made our plans for career choices accordingly.
I love being a mom.  I was made for being a mom and the children God gave to me to take care of are perfect for me and their dad to parent; all part of God's design.  I also love being a teacher.  I like it when my kids ask for my help and we get through a lesson.  Yes, there are tears and struggles during the day, heck, sometimes my kids cry, too.
There are a million things going on in our house on any given day. We have chores to do and meals to cook and dishes to clean.  There is coffee to brew and drink and snacks to make and eat.  Sometimes one kid is up doing a chore like running the vacuum and the others are trying to study for a test.  Other days, mostly Wednesdays, we wash our sheets and the kids pile up the mattresses at the end of the stairs and jump off the landing on top of the pile of mattresses.  So THAT could also be happening.
Some days are GREAT at school because no one has a test to worry about or a paper to write.  We might even finish school before lunch sometimes and that's when you feel like a success.  You feel successful because you know that if they were in public school, they'd still be sitting at a desk dying to get up and release some of that bottled up energy.  Then, some days it feels like HOUSE ARREST!!!!  Lessons DRAAAAAG out because no one, including the teacher, wants to be there.  Everyone would rather be zoned out in front of the television or blogging on the computer.  Hmmmm…..
As I'm writing this, it's one of the days that seem to drag on and on.  I'm feeling frustrated and so is one of my boys, so  I wrapped my arm around his shoulder and said, "Are you upset because the day is seeming to take so long?"  He nodded his head yes.  Then I told him, "Honey, it's only one day.  Some days are smoother than others.  It's okay to have a day that takes a little longer than others."  And then I taught myself something while talking to him.  Don't you love it when God does that?
I say all of that to say this; homeschooling and life is best when handled on a day by day basis.  While doing family devotion the other night, we came across this scripture in 2Timothy 4:7-8 that has helped me, and I'll share it with you now: "I have fought the good fight, I have finished the race, I have kept the faith.  Now there is in store for me the crown of righteousness, which the Lord, the righteous Judge, will award to me on that day-and not only to me, but also to all who have longed for his appearing."
You can take that to the bank, moms and dads.  When you feel like giving up, think on Paul's reminder to Timothy about fighting the good fight and keeping the faith.  We're all going to get that crown of glory.  Take things one day at a time.