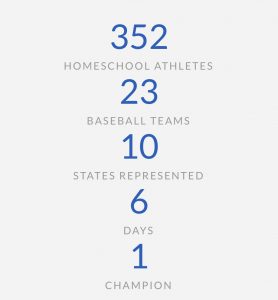 Baseball players and fans gather in sunny Auburndale, FL for the opening ceremony and games of the seventeenth annual HWSA tournament, where teams from all over the nation meet in a Christian environment for some friendly competition. The tradition that began in 2000 has taken a special part in homeschool baseball ever since. Defending 3-time champions, the Dallas Angels, return the Cochran Cup, which was named after former HCYA head coach Lori Cochran, who was instrumental in getting the tournament started.
The Texas teams are: the Dallas HSAA Angels, Dallas DasCHE Spartans, Fort Worth THESA Riders, Houston HCYA Eagles, Houston Northside Falcons, West Houston Thunder, and Spring MtB Mustangs.
The Angels edged out the Nashville Monarchs 5-4 in their first game, then won their second against the Charlotte Stampede 5-4 on a play that sent the coaches scrambling for their rulebooks. After entering extra innings tied 4-4, the Angels loaded the bases in the bottom of the ninth. The game ended in dramatic fashion when a hard-hit ball hit the field umpire, advancing the winning run home on a dead ball.
The Spartans lost both of their games against the Memphis Eagles and Charlotte Royals. The Riders crushed the Springdale Hornets, 20-1, then went on to beat the Falcons 10-3. The Falcons beat out the Atlanta Barons 5-4 in their second game. The Eagles won an exciting 4-0 game against their local rival, the Thunder. The Thunder had held HCYA scoreless until the fifth inning, when their bats finally came alive. HCYA lost their first game to the Raleigh Warriors. The Houston Thunder went 0-2, their first game having faced the tough Raleigh team as well. The Spring Mustangs lost 4-6 to the Faith Stallions, but came back and shut out the Jackson Victors 10-0.
Today the First and Second Divisions will be set. The pressure is on to be one of the eight teams to make Division One and become the next World Series champion. Two Texas teams have been relegated to Division Three with 0-2 records. Five Texas teams will compete today in the qualifying round for Division One glory.
The 2016 Homeschool World Series is under way!