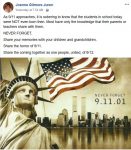 Joanne E. Juren, B. A., M. Ed. mentioned that all the children, those under 18, do not know this event as a memory.  This had a profound effect on me.  That morning I was awake before the children and getting things done when a friend called and told me to turn on the TV.  My children were around me as we watched.  My husband came home.  And as a family we prayed for all the folks involved, victims and first responders.
So we put together a quick sampling of lesson plans to help you teach your children about this event.  It is as profound as Pearl Harbor.  It changed people's lives.  I remember most of the scouts in my son's troop went to war within 4 years.  A whole generation has lost husbands, wives and children becasue of this day.  It should be taught.
From the 911 Memorial, they have two lesson plans.  Basic and Lessons 6-8.
This one is from the 911 Day organization.
PBS News Hour has added a section for lesson plans.
Teach Hubhttps://www.teachhub.com/september-11-teaching-resources
As always, we share information, you decide what works (or does not work) for you family.  We hope this will help you teach your children gently and to their age appropriateness.